---
Welcome to TM Hughes & Son Wickford. We provide Shower Installation and Repair in Wickford.
Whether you require a brand-new installation or to fix a dripping showerhead, our team of Plumbers provide a high-quality service at a fair price.
All types of Showers installed & repaired
Full insurance
Gas Safe Registered
Free no-obligation quotes
Insured for Your Peace of Mind
We understand that allowing someone into your home requires significant trust. That's why we are fully insured.
Our team is fully covered, which means in the unlikely event of any mishap during the installation or repair process, you can rest easy knowing you're protected.
This is part of our commitment to delivering quality workmanship and an excellent, worry-free customer experience.
Expert Plumbers at Your Service
Our Plumbers are experienced with Gas Safe Registration.
Every survey and quote is handled by one of our team who understands the ins and outs of shower installations and repairs and can provide accurate prices for the work and materials involved.
Showers We Install & Repair
We install and repair all types of showers, which include:
Electric Showers
Electric showers are known for their convenience and energy efficiency. They heat water on demand, drawing from the cold water supply and warming it instantly through an internal heating element. This means you're not dependent on the household hot water supply.
Ideal for homes with a busy household or limited hot water availability, an electric shower ensures a hot shower is always available.
Mixer Showers
Mixer showers blend hot and cold water to achieve your preferred temperature. Available in both manual and thermostatic versions, they're known for delivering a consistent water temperature and a more powerful flow compared to electric showers.
Power Showers
Power showers are perfect for those seeking a powerful and invigorating shower experience. They work similarly to mixer showers but include an integrated pump to boost water flow, providing a strong and consistent spray even in homes with low water pressure.
Digital Showers
Digital showers offer the latest in shower technology, merging convenience with style. They allow precise water temperature and flow control and often come with innovative features like touchscreens and remote controls.
Smart Showers
A smart shower is a digitally enhanced shower system allowing customisation and control over temperature, water flow, and sometimes lighting or music, typically via a connected app or voice command, to optimise user experience and water/energy efficiency.
Contact Us Today
Please contact us today for a free, no-obligation quote for Shower installation or Repairs. Please use the phone number or contact form below.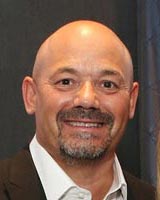 Hi, I'm Terry the founder and owner of TM Hughes & Son Gas Services
Please get in touch using the Phone Numbers or Contact Form below
---
---
---
---
Get A Price Now
Call Us – 01268 351075
Email Us or Request A Call-Back
---
---
0% Finance
For Boiler Installations & Repair
---