---
Welcome to TM Hughes & Son. Our experienced plumbers provide shower installation services in Basildon and the surrounding areas.
Backed by Gas Safe registration and years of hands-on experience, we ensure your shower installation process is smooth, efficient, and completely compliant with safety standards.
The Importance of Choosing the Right Shower
The shower you choose plays a pivotal role in your bathroom's comfort, functionality, and aesthetics. Beyond its physical design, the shower type also impacts water efficiency, thus influencing your water bills and environmental footprint.
Different Types of Showers
Understanding the diverse range of shower options available helps you make an informed decision to meet your specific needs and preferences.
We offer free, no-obligation surveys and quotes from one of our Plumbers to help you determine the best shower for your bathroom.
Electric Showers 
Electric showers heat water on demand, offering a continuous supply. They're independent of the hot water system, meaning you can still have a hot shower even if your boiler breaks down. However, the water pressure might be lower compared to other types.
Mixer Showers
These showers blend hot and cold water to your desired temperature. Ideal for homes with a ready supply of hot water.
Power Showers
Power showers combine the features of electric and mixer showers and include a pump for improved water pressure. They provide a luxurious showering experience but consume more water and energy.
Digital Showers
A modern take on the mixer shower, digital showers allow you to control temperature and flow precisely at the touch of a button. They can be more expensive but offer advanced features like remote control and multi-function options.
Eco Showers
Designed to limit water usage, eco showers are ideal for environmentally-conscious homeowners. They use less water without compromising the shower experience, but their effectiveness depends on your home's water pressure.
Smart Showers
The latest in shower technology, smart showers connect to your home's WiFi for remote control via a smartphone app. They offer personalised settings, like preferred temperature and flow rate. While they offer high convenience and control, they can be more expensive to install and require a good WiFi connection.
Shower Installation Services
TM Hughes & Son provides shower installation services, beginning with a free survey to help you select the shower that best suits your needs.
We guide you through the advantages and drawbacks of each type, considering your specific requirements. Following the survey, a quote is written.
If you want to proceed, an experienced plumber will carry out the installation process carefully, adhering to all safety regulations. 
We ensure minimal disruption to your daily routine, striving to complete installations efficiently and cleanly.
Our services don't stop at installation. If any issues arise after installation, our team is on hand to address them promptly.
Contact Us
Please contact us today using the phone number or contact form below to book your free, no-obligation shower installation quote.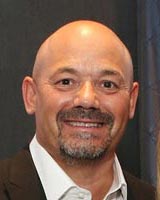 Hi, I'm Terry the founder and owner of TM Hughes & Son Gas Services
Please get in touch using the Phone Numbers or Contact Form below
---
---
---
---
Get A Price Now
Call Us – 01268 351075
Email Us or Request A Call-Back
---
---
0% Finance
For Boiler Installations & Repair
---